Installing and configuring the Photoshop plug-ins
---
To install the plug-ins, go to the Photo Ninja menu and choose "Install plug-ins...":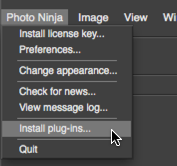 Use the installer dialog to choose where you want to install the plugins: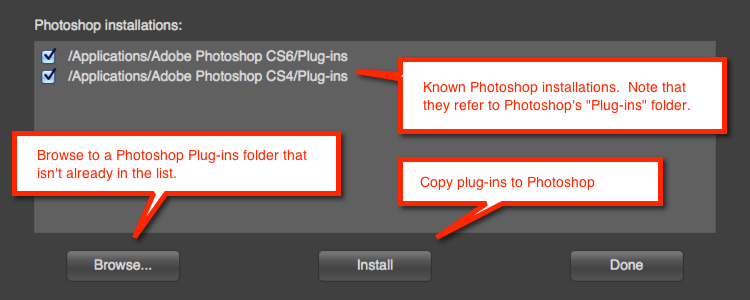 The installation process copies the plug-ins from Photo Ninja's installation folder to Photoshop's "Plug-ins" folder (or other location that you specify).
NOTE: You must restart Photoshop so it can load the plug-ins
Activating and configuring the format plug-in (IMPORTANT)
The format plug-in must be activated in Photoshop before you use it. To do this, go to the "File Handling" page in Photoshop's Preferences dialog, and uncheck the option to "Prefer Adobe Camera Raw for supported raw file formats":

Next, open Photo Ninja's preferences dialog and go to the "Photoshop" page. Make sure the option "Open all RAW files supported by Photo Ninja" is checked.

If the plugin is correctly installed, activated, and configured, then Photo Ninja should be become the default raw converter for Photoshop.
Using the plug-ins
To learn how to use the format plug-in,
click here
. For information about using the filter plug-in,
click here
.