Case study: Brides, grooms, and backlighting For difficult wedding shots, Mark van Dam relies on Photo Ninja

---
Most wedding photographers can relate to the challenge faced by Mark van Dam after a recent shoot: "The subject was half in shade and half in sunlight, the bride was wearing white and the groom was in a dark suit. And I just wasn't liking the results I was getting with the usual postprocessing tools."
Mark isn't a newcomer to the digital workflow. An award-winning photographer based in Wasaga Beach, Ontario, he has worked professionally for more than a decade. He has also served as a photography instructor at Trent University's Continuing Education Program, and his images have been published by a half-dozen book companies and exhibited in area galleries.
Managing dynamic range with Photo Ninja
After reading a number of positive comments about Photo Ninja in a photography forum, van Dam decided to download the software. "I opened the image with default settings and was shocked at how easily I was able to get the result I had been striving for — and this was the first time I'd used the software. So, I tried it on some other difficult images. I was able to get consistently good results, usually without much adjustment. The image quality this program produces absolutely destroys any other RAW converter I've tried in terms of colour reproduction, exposure controls, and noise reduction."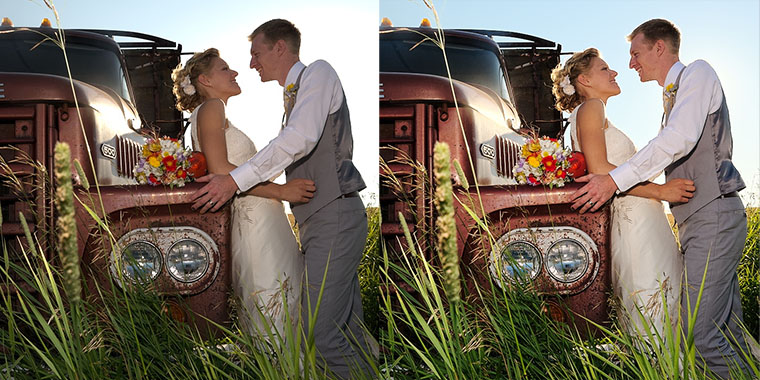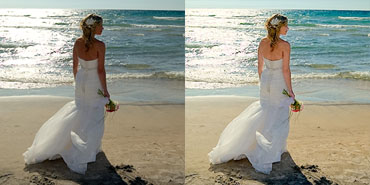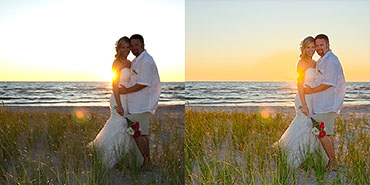 For Mark, tricky lighting comes with the job. "My clients get married in beautiful locations in Canada that have their share of photographic challenges: a white sand beach at mid-day, a half-sunlit and half-shaded ceremony site, and so on. I almost always shoot with fill flash, but it can be overpowered by the sun, especially when I'm shooting towards it. And when I'm shooting hundreds of images an hour, even a high-powered battery pack might not recharge fast enough. So I have to rely on postprocessing to rescue these shots."
Photo Ninja is now his go-to tool for difficult images: "In my opinion, this is a new benchmark in image processing. I can get a clean, punchy, and realistic image with just a few slider adjustments. Photo Ninja can pull more dynamic range out of a single image than anything else I've seen. And the highlight recovery is staggering. With the tone, noise, and detail controls, I can achieve a balance of detail in shadows and highlights that has eluded me before. And the result looks very natural, not overly processed or 'HDRish' like in most other tools I've tried."
Pleasing clients with pleasing color
According to Mark, another strength of Photo Ninja is its color rendering. "The built-in Portrait color styles can produce a vivid result that looks very natural. The color enhancement controls make it very easy to target and adjust skin tones or other colors. For instance, the Hue Affinity control allows me to create the colours I want for skin, sky, and foliage — the traditional memory colors — very effectively."
To see more of Mark's photography, visit his website at www.imagesbyvandam.com.